Ardnamurchan Lighthouse – Ardnamurchan Point – the most westerly point of the British Mainland.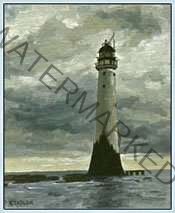 The Bell Rock Lighthouse
Bell Rock Lighthouse – This site commemorates probably Scotland's greatest single engineering feat of the early 19th century; its creator and builder, Robert Stevenson; the workmen and seamen who were engaged on its construction; and to John Rennie, who was appointed Chief Engineer to the project.
Stay in a Scottish Lighthouse
Rua Reidh Lighthouse – Melvaig, Gairloch, Wester Ross, Melvaig, IV21 2EA
At Rua Reidh Lighthouse you will find a terrace. Other facilities offered at the property include a shared lounge and a dining area in the conservatory. Featuring a bath or shower, the en-suite bathrooms also come with a hairdryer. You can enjoy sea view from every room. Inverness Airport is 85 miles away.
Lighthouse Governing Bodies
Trinity House – The Lighthouse Authority for England, Wales, the Channel Islands & Gibraltar
The Commissioners of Irish Lights
Scottish Lighthouse Museums
Museum of Scottish Lighthouses – Fraserburgh
Signal Tower Museum – Arbroath
Lighthouses in England
The Old Lighthouse – Dungeness, Kent
Happisburgh Lighthouse – East Anglia
Lighthouse Societies
Association of Lighthouse Keepers – a forum for everyone interested in lighthouses, lightships and aids to navigation.
British Amateur Radio Lighthouse Society
Great Lakes Lighthouse Keepers Association
The Nova Scotia Lighthouse Preservation Society
United States Lighthouse Society
Lighthouse Interest
A Lighthouse Keeper's Life – A video from National Museums Scotland