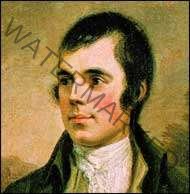 Robert Burns
---
Robert Burns was born on 25 January 1759.
Robert Burns died in Dumfries on 21 July 1796, aged 37.
---
Robert Burns – Places to visit
Robert Burns Birthplace Museum – offering a truly unique encounter with Scotland's favourite son. The Birthplace Museum comprises the famous Burns Cottage where the poet was born, the historic landmarks where he set his greatest work, the elegant monument and gardens created in his honour and a modern museum housing the world's most important collection of his life and works.
Ellisland Farm – Some of the Bard's best-loved nature poems were inspired by the tranquil setting of Ellisland Farm. Ellisland is now a popular museum and visitor attraction and it provides a wonderful insight into the life of Robert Burns on a farm two hundred years ago
The Globe Inn, Dumfries – Established in 1610, The Globe Inn, Dumfries has long been associated with Scotland's national poet. In 1796, Burns wrote: "… the Globe Tavern here, which these many years has been my Howff …", and in 1819, the first of what was to become the annual tradition of Burns Suppers was held here at The Globe Inn in Dumfries, south west Scotland.
Batchelors' Club – In this 17th-century house in Tarbolton, Ayrshire, Scotland's national bard, Robert Burns, learned to dance, founded a debating club and became a Freemason. The Batchelors' Club is cared for by the National Trust for Scotland.
About Robert Burns
Robert Burns – Speakers
Jim Mein – Burns Supper Speaker and Chairman
Burns Clubs in Scotland
Alamo Burns Club – Paisley
Dalry Burns Club – the longest, continuous record of anniversary dinners in the world.
The Burns Howff Club – Dumfries
Irvine Burns Club – The club has an unbroken history dating back to its formation on 2nd June 1826. Of the twelve founding members of the club five were known to Robert Burns, two of whom were close friends of the poet.
Paisley Burns Club – the world's first formally constituted Burns Club – Founded in 1805.
Perth Burns Club – Established in 1873 and open to all who share an interest in the culture and heritage of Scotland.
Burns Clubs in the USA and Canada
Robert Burns Association of North America – RBANA is an association dedicated to the preservation and appreciation of the life, works and philosophy of Robert Burns, Scotland's National Bard.
Robert Burns Society of the Midlands
The Robert Burns Club of Milwaukee
Medicine Hat Burns Club – Established in 2008
Robert Burns Information
Robert Burns – by The BBC
Robert Burns – by the Gazetteer for Scotland
Robert Burns – by The National Library of Scotland
Robert Burns – by Diane Maclean – The Scotsman