Scottish History Websites
Angry Pict – People, Places, Battles
The Highland Clearances – Concentrating on first-hand accounts this site tells the stories of where people came from and the places to which they went.
History of Scotland – Wikipedia
In Search of Scotland – BBC
Scotland's History – Learning and Teaching Scotland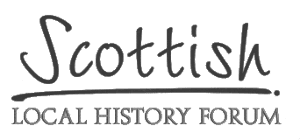 The Scottish Local History Forum – The umbrella organisation for all individuals and organisations interested in local history in Scotland.
Scottish Local History Groups and Societies
Abertay Historical Society – Promoting the history of Angus, Fife and Perthshire.
Arrochar, Tarbet & Ardlui Heritage Group
Cathcart Circle Architecture – All the buildings featured in this exploration of the architecture of Glasgow's southern suburbs can be visited from stations on the Cathcart Circle railway line.
Dunning Parish Historical Society
Falkirk Local History Society – Formed in 1981.
Kinnettles District and Heritage Group – by Forfar
Tayside – A Maritime History – a virtual museum presenting the maritime history of Tayside, on the east coast of Scotland.